Do you really deliver customer success or do you just talk about it?
Do you want to transition from pushing products to selling services-led solutions?
Is building brilliant customer experiences an organizational priority?
Is your strategic account management program really strategic?
Want to quit giving away services and move from free to fee?
Alexander Consulting…helping product companies build brilliant services businesses that drive customer success.
WE HELP PRODUCT COMPANIES BUILD BRILLIANT SERVICE BUSINESSES
THAT DRIVE CUSTOMER SUCCESS
Product Company Executive
Do you want to transition your services business from free to fee?
Do you want to profitably sell more services
and
products?
Want to learn about strategic customer success, not the traditional functional approach?
Click here >
Strategic Customer Success
Is the traditional approach to customer success right for you, or are you interested in a higher-potential approach?
Does your marketing, selling, and services share common goals and shared destiny?
How ready are you for strategic customer success?
Technology Professional Services
Need to get your consultants building customer trust faster?
Want your consultants to help generate more business?
Would you like your consultants to deliver brilliant customer experiences?
Strategic Account Management
Are you looking to win new business faster?
Want to improve retention and growth of existing key accounts?
Looking for ways to turn key customers into clients and clients into champions?
Field Services Management
Are your people technically strong but relationship skills weak?
Want to train and coach your people to help drive more revenue?
Need your people to deliver better customer experiences?
Is compressing sales cycle time a challenge?
Is your win rate what it should be?
Are you trying to get your product sellers to seriously sell services and solutions?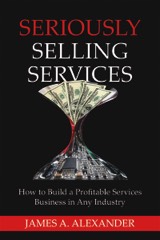 Seriously Selling Services offers research-based, field-proven core and best practices, lessons learned, and benchmarks for successfully selling services. Find out how to grow services revenue 25% faster, at margins twice as high, as your competitors.
The Brilliant Service Professional applies to service pros in all industries, uncovering the competencies, tools, and behaviors that make them shine as the new corporate rock star. No one has more potential impact on the success of a company.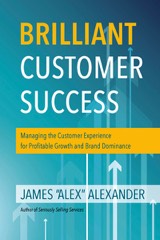 Brilliant Customer Success defines a performance model and outlines the customer success journey that is applicable to almost any organization—traditional or cloud, large or small, profit or nonprofit, in any industry or any geography.
March 1 | [Webcast] | Noon Eastern
Services and the Big Picture
What role should services play in your company? Should services be thought of as a strategic differentiator or a tactical contributor? Should services be managed as a profit center or as a cost center? What should you be doing differently with services to improve the performance of your organization?
In this webinar you'll learn:
Which of the three selling services strategies is best for your company.
The three big responsibilities that you must convince executives to assume.
The five best practices that executives must implement to successfully drive and support a robust services business.
Join me for this informative session, sponsored by Service Strategies. You'll find relevance in the topic, value in the content, and enjoy the crisp, to-the-point presentation.
April 25-26 | [Workshop] | Irvine, CA
Strategic Account Management Training
Become a Top Performing Strategic Account Manager

The Strategic Account Management training course provides support and technical account managers with the relationship skills and account management tools they need to proactively increase customer loyalty, generate new business, and accelerate their confidence.

In this highly interactive course participants will learn the skills to become a top-performing strategic account manager and have the confidence to deal effectively at all levels within their accounts. They will be provided the proven tools that will accelerate building trust while effectively managing relationships both within their accounts and within their own organization. Attendees will have the chance to plan and practice real-life situations with their strategic accounts.