Building a Rock Star Service Account Management Organization
by James "Alex" Alexander
The service account management (SAM) position is one of the fastest growing in all of service and support. The value-adding, value-creating potential of this highly visible role is huge. In past articles I've focused on the changing role of the SAM from reactive to proactive, from tactical to strategic, and what new behaviors are required for success. In this article, my focus is on the leaders of SAM organizations who want to be the very best. I will share four practices on how you can lead the transition to a rock star SAM organization.
1. Make Meaningful Measures
As a smart manager, you know it is always best to first define desired results then work backward to best achieve them. I suggest focusing on these four drivers of SAM success* and create one or two metrics for each driver.

1. Resolution. Although my encouragements are always around being proactive, we can't forget that the role of SAM evolved because of customer demands that your company to be better and faster at fixing problems. So a "do it right, do it fast" resolution metric (e.g., percentage of issues resolved within X hours) is vital to customer satisfaction. But that is only part of the equation.

Customer problems suck up huge amounts of your company's time and resources. It is common for SAM units to spend 95% or more of their time firefighting. To counter this challenge, driving internal efficiency is paramount—the less time spent fixing problems today, the more time available to prevent problems tomorrow. A good resolution target for your SAM organization to strive for is 80-20, with 20% of your SAM's time being proactive—preventing problems before they occur and actively looking for opportunities to improve the customer's business. Streamlining processes is one important component, but another is personal. This will call for a change of behavior for some of your people, as many may have the technical savvy to fix the problem themselves and like doing it. In most cases, the most effective use of your SAM's time is spent helping expedite resolutions by using other internal resources. It is your job to guide this change in behavior, and putting measures in place will help.

2. Relationship. Business success is all about relationships, and since the SAM is the owner of the account, he is the owner of the account relationship (nevermind what Sales might say). The best relationship measures are quantifying the perceptions of the SAM by the customer on areas such as reliability, credibility, and transparency. An excellent metric to measure relationship strength is to define how likely a customer executive would recommend the SAM to a colleague using a 5- or 10-point scale. From a management standpoint, the cumulative score of all your SAMs is a good indicator of your future success.

3. Retention. In many ways, retention is the one number most visible and often most vital. Setting aside your problem accounts, 100% retention is often an appropriate measure of performance.

4. Revenue. Yes, I believe that SAMs should be measured regarding their contribution to new business development. But don't get me wrong—I don't mean that SAMS should carry quotas or that a big chunk of their compensation should be tied to new sales. However, the very best organizations know that everyone is responsible for selling, and since the SAM is such an important customer-facing role, it would be lousy management not to consider this element. For example, an appropriate baseline metric for all SAMs might be the number of leads passed on to Sales that resulted in new business.

Once this 4 R's Scorecard is established, it is time to benchmark current performance and establish appropriate targets.
Some of your SAMS "just like to fix things" and don't want to change their behavior. Many SAMs are willing and able to move up the rock star ladder once they understand the added value they can create. Finally, you may already have a few who are already playing a strategic role in certain accounts and are seen as trusted advisors. So as the SAM leader, you should take willingness and ability to be proactive into consideration as you assign individual objectives and the metrics to monitor success (
Figure 1
).
Figure 1: Where Do Your SAMs Stack Up?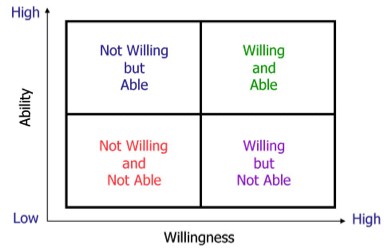 Furthermore, accounts vary on their attitudes toward suppliers. Some view all suppliers as vendors, providing commodities that can be easily replaced. These accounts demand everything, but won't pay for anything. Because they are big, they feel they can treat service folks as servants. You know who I am talking about because every SAM organization has a few of these to deal with. To generalize, they are a royal pain. Does it make sense to try to get these resource sappers to change their attitudes? No way! It will never happen. My advice to SAMs with these types of accounts is to deliver the absolute minimum to fulfill SLAs. Doing more wastes time and builds frustration. As the leader of the SAMS, give them your support.

However, some customers welcome anyone who can make them successful and they will pay for it! These companies would love to view your SAMs as trusted advisors. It is in these accounts that an investment by the SAM will lead to a long-term return.

Recommendation: Plot your customers on the Customer Philosophy Scale (Figure 2) to determine where you SAM organization should focus. Next, think about the individual SAM assigned to each account. Ideally, to maximize performance, your best people (most proactive) should be assigned to accounts that most value what you have to offer. Finally, set objectives and corresponding metrics that stretch your SAMS but ones in which they have a realistic chance of achieving.
Figure 2: Matching the Appropriate SAM Proactiveness to Account Supplier Philosophy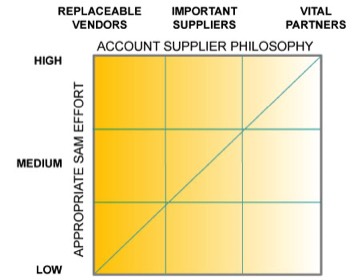 Rock star SAMS shine not because of technical expertise but because: (1) Business acumen—they understand the customer's business, industry, and market. (2) Great relationship skills—they can powerfully communicate in terms the customer understands and accepts. (3) Trusted advisor mindset—they think and act like a business consultant, not like a technical expert. For many SAMS, this is a big change that won't happen easily without strong support and ongoing reinforcement. So provide high-quality "soft skills" training to your team on a regular basis and build business acumen into their development plans. You owe it to give them great training, but they owe it to themselves to take personal responsibility for growth.
Your SAMs look up to a few colleagues who are really good. They watch what these rock star SAMs do and how you and the organization treat them. If they like what they see, they will be motivated to try to emulate them. Furthermore, your top SAMs are working with top accounts and, thus, your executives are highly interested in what is going on.
So let your stars shine—take every opportunity to tell everyone the great job they are doing and the value they create. Even better, let them tell the story. Get them face-to-face with your executives and in front of the sales organization as often as you can. Encourage them to speak internally as well as at industry conferences. Urge them to write and be published.
Another thing you can do to put your best foot forward is to leverage the quarterly business review (QBR). Most of your organizations do QBRs but many of them focus on the past, using tables and charts demonstrating your reactive performance when problems arose. Important but boring. Here are some recommendations to help your QBRs hum:
Keep your report card, but cover it last. Start with future-oriented, open discussions on what the account is facing and anticipating.
If the SAMs are not in charge of the QBRs, get them in charge. They should be seen as the lead and the facilitator.
Hold QBRs face-to-face. If logistics/budgets make this difficult, commit to at least one in-person QBR per year. It makes the vital relationship building so much easier. Incorporate video into other sessions so that at least there is some visual connection.
Invite execs from your company and the customer to be involved. Put them on the agenda up front and let them talk about what they want to talk about.
Take full advantage of the trip to schedule informal meetings to casually talk about what's important to customer managers.
Turn one of the Quarterly Business Reviews into an Annual Business Retreat. Customer execs located in upstate New York can often find time for a two-day off-site on Sanibel Island, Florida, in March. Have Marketing or Sales pay for this future-oriented, partnership-building, relationship-improving, business-on-the beach-and-on-the-boat session.
Your SAMs are smart folks who want to succeed. Implement these four steps and you will provide more value to your customers, more revenue to your company, and more satisfaction to your SAMS.
Alexander, James A., EdD. "The 4 Rs of Service Account Management."
James "Alex" Alexander is founder of Alexander Consulting, a management consultancy that helps product companies build brilliant service businesses. Contact him at 239-671-0740 or alex@alexanderstrategists.com.